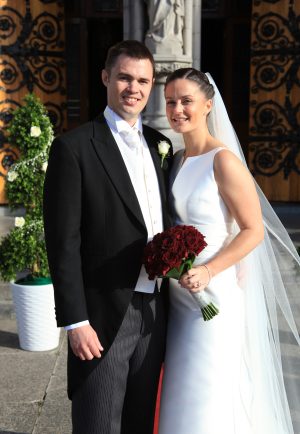 Trish Carlos walks through the door and recognizes familiar faces, all watchful and wondering. She gives them an inquisitive look. Why are they in a maternity hospital? Must be expecting.
That wasn't why Carlos was here. A few months earlier, the dark-haired school teacher from the hilly seaside town of Cobh in Ireland was standing on the same corridor holding a baby boy. Today's return visit had nothing to do with that happy event—the excitement she felt then had now been replaced by anxiety. She sits down next to the tall, broad figure of her husband Declan as they wait for their appointment. The genetic service comes down from Dublin to the southern city of Cork once a month and rents a room in the hospital. Trish had been waiting for eight months to start a process that begins with today's blood test.
The Carlos family walks into the rented room. It's like any other in the hospital, with a simple desk and examination bed. The geneticist explains that Trish is being tested for a mutation in a gene called BRCA1, an entity linked to breast cancer. The geneticist goes through some of the symptoms and says that a mutation can not only give you a higher risk of breast cancer but ovarian cancer as well.
Read 51 remaining paragraphs | Comments
#science
» see original post
http://feeds.arstechnica.com/~r/arstechnica/science/~3/oz9SYCbpxHk/